Container management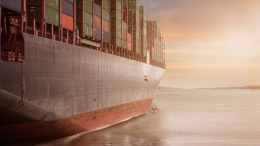 iTracking Asia's Container Management System is developed so it can track and monitor refer or dry containers across the globe and can stay on line for up to 5 years based on 1 position per day.
Exporters, Buyers, Freight Forwarders, Shipping Lines or Land Transport Companies will be able to monitor movements of their containers and at the same time also be able to monitor temperature or humidity inside the container. Alerts can be send if if temperature or humidity levels are exceeding the pre set intervals making it possible to save the good inside the container. 
iTracking Asia's system enable the operators to make trip replay, speed monitoring, geofence setting, location management.
In the event delays happens during the transport the involved parties will be able to act so the delay can be minimised. 
The build in light sensor also makes is possible to see where the container is being open
For more information send us a request in below form and we will be happy to guide and assist you in the possible best way.
Key Features
Quality of product very often depends on how Temperature or Humidity is being controlled.

iTracking Asia's Container Monitoring device and system now makes is possible for Exporters and buyers to monitor temperature or humidity during transport for quality assurance. 

Clients are able to setup Geo fences very easy on the platform.

The Geo fence can be used to control when containes are leaving and arriving at zones, making sure time tables are kept.

The Geo fence can also be used to ensure vessels stay inside a zone. Alerts can be send if leaving via mail, SMS or a report can be generated in these events.

Alerts can be created for temperature, humidity or light sensor events which can be send either by SMS or Email.

iTracking Asia's Container Monitoring have a lot of standard reports for the users.

If clients should need special they can be developed upon request.
Contact Us
We'd love to discuss how our tracking products can help your business. Kindly get in touch for more information and a complimentary demonstration.
Office Location
i-Tracking (Thailand) Co., Ltd.
2036/4 50 Park Condo
Rim Road – Paknam Railway
Sukhumvit Rd., Soi 50
Phakhanong Khongtoey
Bangkok 10260